Instant pot Lamb Ragu.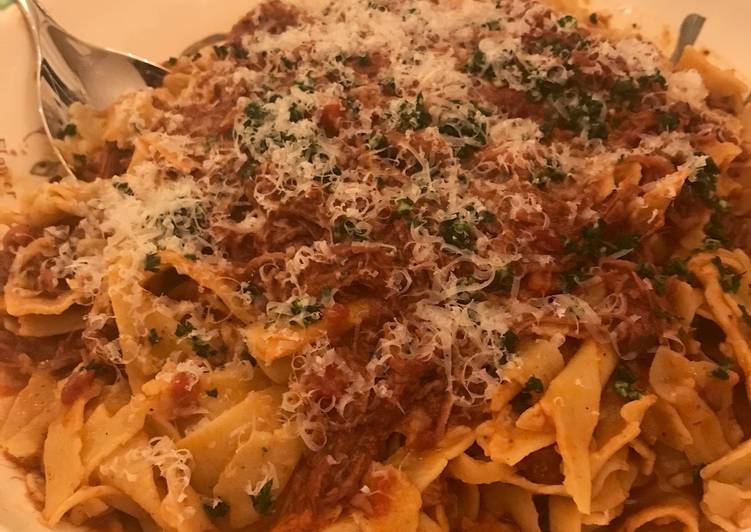 You can cook Instant pot Lamb Ragu using 19 ingredients and 12 steps. Here is how you achieve it.
Ingredients of Instant pot Lamb Ragu
You need 1 (4.5 lbs) of leg of lamb.
It's 1 of onion yellow diced.
You need 4 of garlic cloves.
Prepare 2-3 of small to medium carrots diced.
You need 1/2 cup of tomato paste.
It's 1 cup of red wine.
Prepare 2 of bay leaves.
It's 1 tsp. of Fresh thyme chopped (about 4 or 5 sprigs).
Prepare 1 tsp. of Fresh rosemary (about one sprig).
Prepare 1 TBS. of avocado oil or olive oil.
You need 1 (4.5 oz) of can of diced tomatoes.
It's 1 (12 oz) of can of San Mariano tomatoes.
Prepare 1 TBS of whole milk.
You need to taste of Salt & pepper.
You need of Gremolata-herb condiment ingredients.
Prepare 1 cup of parsley.
It's 2 of small garlic cloves.
Prepare of Zest of 1 lemon.
Prepare of Salt and pepper.
Instant pot Lamb Ragu step by step
Heat oil in your instant pot using the sauté function high I usually set it to 20 mins because you can always cancel it when your done..
Season lamb on all sides generously with salt and pepper..
Brown Lamb on all sides for about 5 to 7 min. a side or until browned. Remove lamb and set aside for now..
You may need to add a little more oil to the pan to sauté your veggies. Add onions, garlic, carrots and sauté till softened..
Next add your tomato paste and cook for 1 to 2 mins..
Deglaze the pan with the red wine. Making sure to scrap up all the browned bits..
Next add the tomatoes, herbs, and milk and bring sauce to a simmer..
Put lid on your instant pot and make sure the valve switched to sealing..
Pressure cook or manual button for 120 mins on high. You can do natural release or manual release what ever you prefer..
Once lid is open remove the lamb. Set pot back to med to low sauté to allow the sauce to reduce while you shred the lamb. Spoon off any excess lamb grease from the top of the sauce. Next add the lamb back into the sauce and it's ready to top your pasta..
I like to garnish the lamb Ragu with Parmesan cheese and fresh gremolata. Recipe below..
Gremolata- chop parsley and garlic finely then add lemon zest, pinch of salt and pepper. Mix together and sprinkle over finished lamb ragu..