Gourmet Stewed Red Beans & Rice.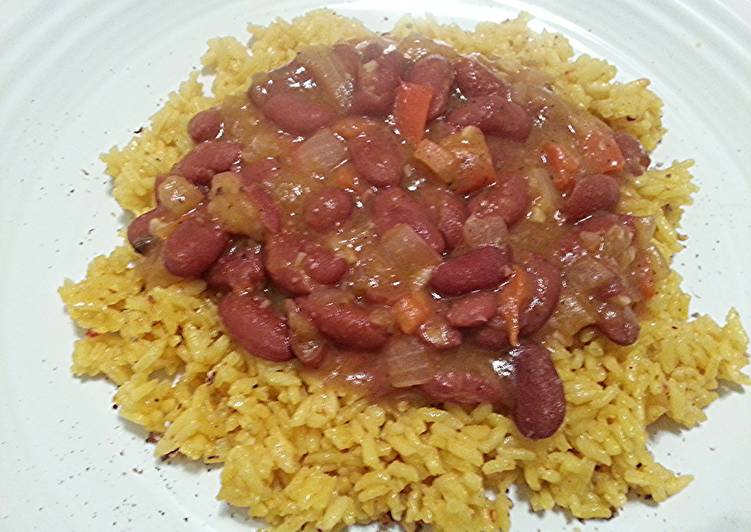 You can have Gourmet Stewed Red Beans & Rice using 16 ingredients and 8 steps. Here is how you achieve that.
Ingredients of Gourmet Stewed Red Beans & Rice
Prepare 2 lb of Red kidney beans.
You need 2 of onions.
Prepare 1 of long hot pepper (or pepper of your choice).
You need 1 of plum tomato.
You need 6 clove of garlic.
It's 2 tbsp of Sofrito (tomato cooking base).
You need 2 tbsp of Recaito (cilantro cooking base).
Prepare 1 packages of Sazo'n (cilantro & tomato season packet).
You need 1 cup of water.
You need 1 of salt & pepper.
It's 1 of For rice.
Prepare 20 oz of Spanish yellow rice.
Prepare 4 tbsp of olive oil.
It's 5 cup of water.
Prepare 1 pinch of saffron.
It's 1 tsp of Szechuan peppercorns.
Gourmet Stewed Red Beans & Rice step by step
Dice onions, pepper & garlic & saute in pot with olive oil on medium heat.
Add beans, diced tomato & all other ingredients & cover & reduce heat & let simmer for 20 minutes stirring occasionally..
Remove cover salt & pepper for taste & let simmer until sauce thickens stirring occasionally..
For rice in small pan add szechuan peppercorns on low heat rolling around until they smoke. Remove from pan & grind in mortar or grinder..
In separate pot heat oil add & stir in rice & add saffron & grounded peppercorns & stir.
Add water on high heat & bring to a boil & stir for one minute. Reduce to simmer on low heat, cover & let cook 15 to 20 minutes.
Add layer of rice to dish & add hearty portion of stewed beans on top of center of rice..
Eat & enjoy.