TT's Roasted Chicken & Veggies.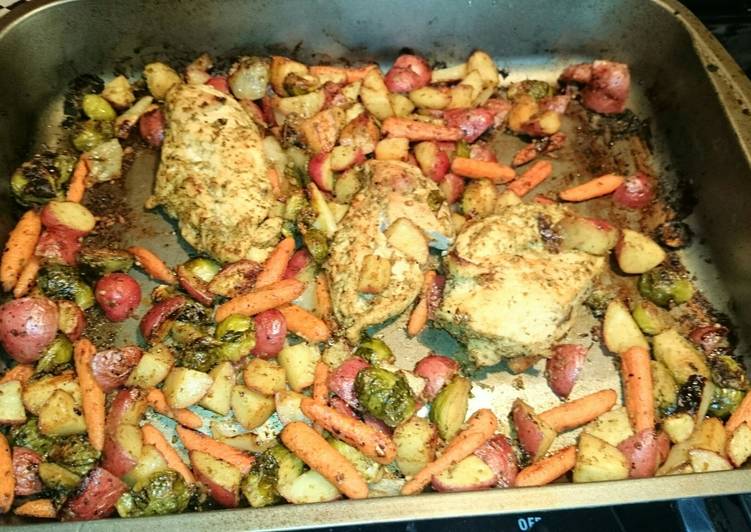 You can cook TT's Roasted Chicken & Veggies using 11 ingredients and 9 steps. Here is how you cook that.
Ingredients of TT's Roasted Chicken & Veggies
Prepare 4 of Boneless Chicken Breasts.
You need 1 envelope of McCormick Gourmet Chicken & Potatoes Seasoning Packet (this is not the recipe on back of package).
You need 16 oz of Green Giant Fresh Brussels Sprouts 3/4 bag.
It's 1 packages of Petite Baby Carrots (small bag).
Prepare 1 packages of Ruby Gold Potatoes (1lb bag).
You need 1 of White Onion.
It's 3 tbsp of Olive Oil.
You need 3 tbsp of Ponzu Sauce.
It's dash of Soy Sauce.
It's 1/4 cup of 50 Trop Orange Juice.
Prepare of Garlic Powder.
TT's Roasted Chicken & Veggies step by step
Preheat oven 425°.
Spray shallow metal baking pan with olive oil..
Combine in large bowl and set aside..
Chop.
Add ingredients to your large bowl with seasoning mix & cover evenly..
Spread season covered chicken & veggies evenly in oiled metal baking dish. Sprinkle with garlic powder (keep in mind there is garlic in seasoning packet this is for garlic lovers 😊).
Bake in preheated 425° oven for 30min..
Turn chicken & toss veggies.
Set to broil and cook for additional 15min tossing veggies frequently until browned..